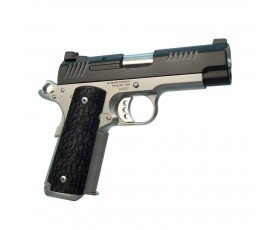 ED BROWN EVO E9
SPECIFICATIONS
Caliber:  9mm
Barrel Length:  4"
Overall Length: 7.5"
Overall Height:  5.5"
Slide Thickness: .860"
Weight: approximately 35 ounces with an unloaded magazine inserted
• Model: EVO-E9
• 4" slide, thinned substantially for weight reduction.
• Single stack frame.
• Exclusive 25 LPI checkering on forestrap and magwell housing housing.
• 7-top custom cut slide with special front and rear serrations.
• External extractor.
• Easy to change black front sight.
• Smaller, redesigned "Tactical Edge" U-notch rear sight.
• Bull barrel.
• Guide rod with flat wire recoil spring system.
• Custom options included: one-piece blended, flush barrel with recessed crown.
• No changes are allowed in order to maintain manufacturing efficiencies, but consistent with the "Evolution" concept, we will be varying the configurations from batch to batch, which will lead to a proliferation of different versions. You will be sure to find something you love.
PHP259,050.00