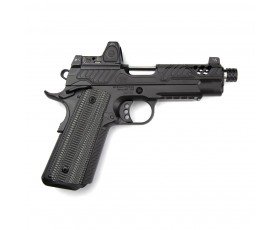 ED BROWN ZEV 1911 COMMANDER
SPECIFICATIONS
Caliber:  9mm
Barrel Length:  4.25"
Weight: approximately 40 ounces with an unloaded magazine inserted
•  4.25" Commander slide, single stack Government frame with integral light rail.
•  ZEV designed slide with side and top slide ports.
•  FX1 Snakeksin on frontstrap.
•  Trijicon RMR with tall night sights.
•  Dimpled barrel.
•  Threaded, suppressor ready barrel.
•  ZEV thread protector.
•  Tactical profile ambi thumb safety.
•  VZ Alien black G10 grips.
•  Custom options included: recessed slide stop with serrated pin, blended one-piece magwell.
•  One year limited edition.
PHP590,650.00